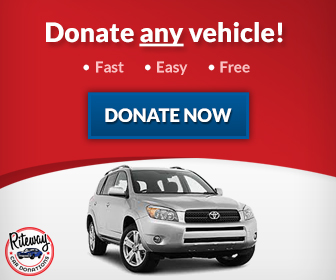 We have partnered with Riteway Charity Services to help you receive the maximum benefit possible for your vehicle donation.
Call today to schedule a pick up and help the mission drive away hunger and homelessness!
(888) 250-4490
FREQUENTLY ASKED QUESTIONS
How can I contact you to schedule a pick up?
Call Riteway at (888) 250-4490 to schedule a pickup for your vehicle.
What can I donate?
Cars, boats, RVs, travel trailers,  and fleet vehicles in working condition. If you have any questions about what you can donate, please call Riteway at (888) 250-4490 for more information.
What do I need to do to donate my vehicle?
Provide us with the title, registration, and keys to the vehicle. If you do not have title papers call us anyway; other arrangements can  be made in most instances. You can contact Riteway at (888) 250-4490.
How will the car be picked up?
At the scheduled time, we will arrange the proper vehicle to tow your car, boat, truck, RV or travel trailer.
How long will it take to pick up my car?
As soon as you contact us, we can normally pick up your car within a few days. If you need your car picked up sooner, we can make those arrangements.
How is the value of my car determined?
We can refer you to IRS Publication, which sets forth the manner in which the IRS requires you to determine the value of your donated property. You can review this publication on the IRS web site. If your donation is worth more than $5,000, you will need an appraisal for tax purposes.
How do I find what is my car worth? 
Visit Kelley Blue Book or NADA Guides to get a general idea of what your car may be worth. Please bear in mind that this is only used as a general guideline and does not indicate the kind of tax deduction you will receive.
Is my donation tax deductible?
The mission is a 501 (c) [3] all donations are tax deductible as allowed by law and the individual will receive a receipt.
Where can I read about IRS information?
View IRS rules on donated vehicles or go to www.IRS.gov